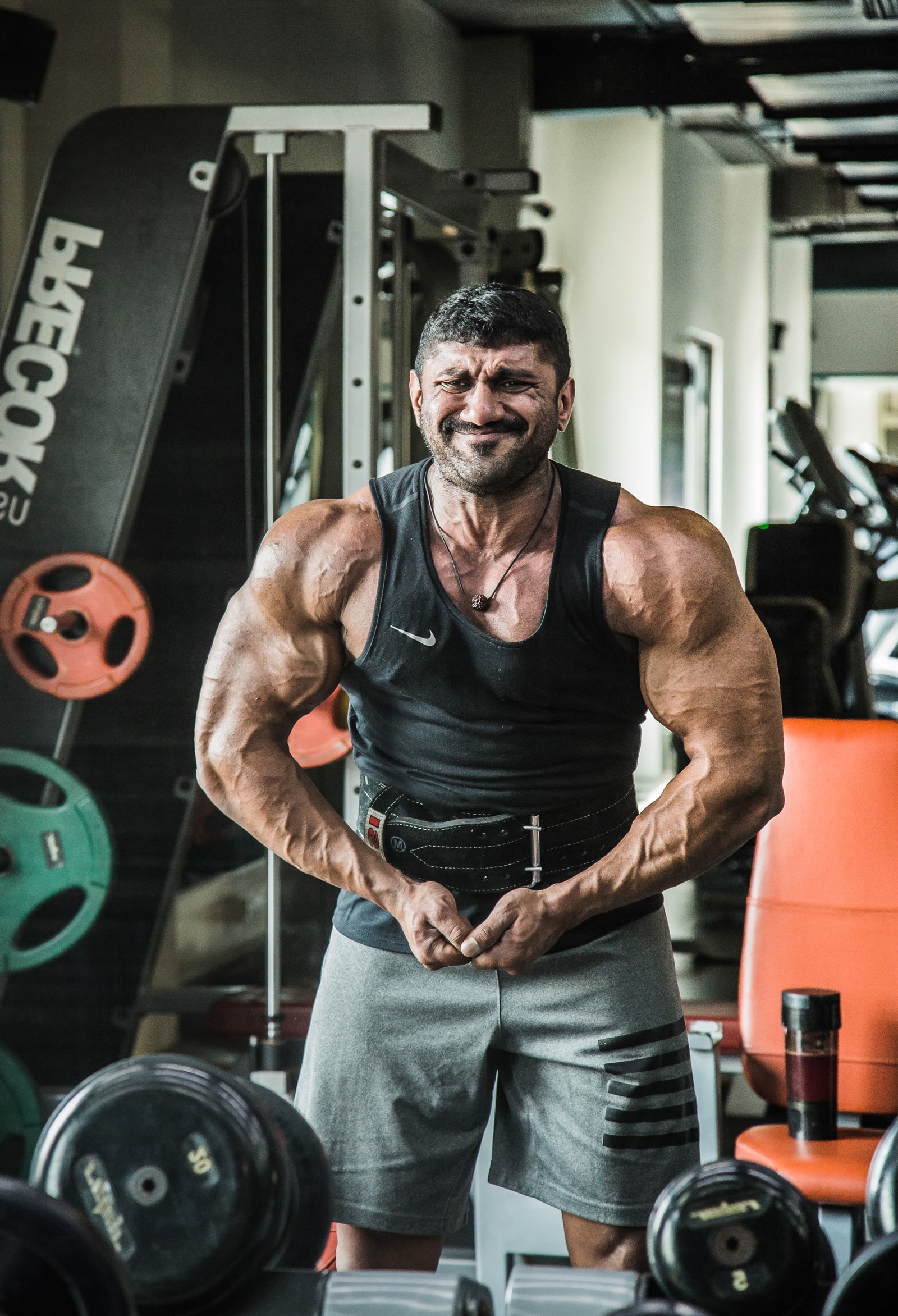 Murali Vijayakumar, or Biglee (a fond name, he has earned over the years in the fitness industry), is a quintessential trainer and coach — strong, with a Salman Khan-esque muscularity. He is passionate about taking clients with challenging fitness needs and transforming their body and lifestyle for the better, that too with notable results in a few weeks time. He is renowned in the fitness and bodybuilding circles for his health centric approach towards fitness. His approachable and friendly nature adds to his expertise and knowledge, making it all the more easier for clients to interact with him and take his programs. His rise to fame seems like your typical career-switching tales, but it is not. Biglee ended up as an IT-working, corporate, post his graduation; but his passion towards the bodybuilding sport and fitness did not let him settle there. Having to put extra hours for workouts and to keep competing while in the demanding IT job was a mammoth task by itself. Sheer dedication and perseverance is what kept him going. Even a late night production support until 2AM could not stop him from reaching the gym at 5AM the next day. Once, he happened to design a nutrition plan for a friend's sister and she witnessed befitting results. This gave him a thought that he could share his self gained knowledge in health and fitness to others. So, Biglee actively started blogging and answering in forums, where he gained much credits and followers. He then decided to take that leap of faith, quit his well-paying IT job to become a fitness coach. And voila, his risk paid off rich dividends. He has been positively impacting many lives since then. His ascent to fame, over the years, has been steady and sustaining. Apart being a fitness trainer par excellence, he has many a feather in his cap:
Mr Anna University – 2006,2007
Mr Kanchi – 2006 – 2008
Mr Tamilnadu – 2008-2010, 2013,2015,2017
Mr South India – 2013
Global moderator of MILOS board – An international board for bodybuilders and fitness divas
Former fitness director of Talwalkars INSHAPE
He is also known to dabble with words — he used to contribute articles to many fitness columns. One among the many he wrote for, for almost a year, is a monthly column in Energy, a fitness magazine circulated across India.
Constantly Learning
This computer science graduate-turned-fitness expert believes in constantly learning and educating himself to stay updated with advancements in the field. He has:
An internationally-accredited diploma in nutrition
Internationally certified Personal trainer
Internationally Certified health and fitness Life coach
Internationally -accredited diploma in Dietary supplement advisor.
Top Client Achievements:
Fitness Coach of C. A. Bhavani Devi – Commonwealth games Gold Medalist in Sabre fencing
Various Bodybuilding Mr. Tamilnadu and MR. India ( Mr. India 2017 Gopala Krishnan, Mr. Tamilnadu 2018,2019 Santhosh, Mr. Tamilnadu and Mr South India 2019 Mukesh Jo, State bench press and deadlift Champion 2019 Upasana ( actress), Mr. Tamilnadu 2019 Mens Physique medalist Mr. Selvan Nagarathinam(IPS) and many more . )
Silver medal in Mr. World 2015 – Ram Moorthy ( Works for the Indian Army )
Gold medial in NABBA asian championship 2017 – WOMEN'S BODYBUILDING – Anu Radha Rao( Celebrity Bodybuilder in Tamilnadu )
Winner of Bikini Ms. South India & Runner Up in Musclemania Miss Bikini Universe– Aarathy ABV
Modelling Mr.India International winner – Bala Krishnan ( A Top model in india)
Mr. Tamilnadu 2017, Haressh Sakthivelu (Fitness coach, Entrepreneur )
Dr. Premkumar Balachandran – senior consultant laparoscopic,bariatric,gastrointestinal and general surgeon, Apollo hospitals,Chennai
Fitness for all
Biglee is a fitness expert with a difference — he has something for everyone. Apart from the hot-shot celebrities he trains, he also caters to patients with cardiac issues, diabetes, while also aiding in post cancer treatment recovery, PCOD, post-pregnancy weight loss, and more.